Tamazirt Evasion is the fruit of a Franco-Berber alliance.
Christelle, who fell under the spell of Morocco, decided to leave France for good and move to Agadir.
Halim is a Berber from the Souss. He has worked in tourism for years. He knows Southern Morocco inside out.
Giving people this unique opportunity to explore Morocco is our way of trying to be useful and acting for a cause that is very dear to us. We are based in Agadir, the perfect starting point for little-known countryside and Southern Morocco tours. We hope that this region will keep its authenticity and Berber soul for a long time to come!
Would you like to know more about us and our experience?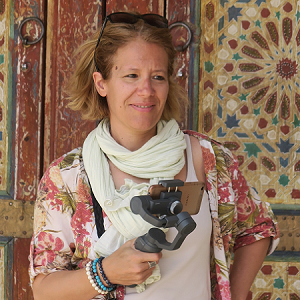 Christelle. After studying international business and specializing in marketing, Christelle went to Paris where she worked in telecommunications in the commercial and marketing domain, as research analyst and leader of market customer relations service via internet. Her first trip to Togo was the beginning of her love of Africa. It was the first of many trips, backpacking through West Africa (Benin, Ghana, Senegal, Gambia, Mali, Mauritania). In 2003, she wanted to change of direction in her professional career and went to Niger as a volunteer during a year-long sabbatical leave. Back in France, in spite of the numerous opportunities that she was offered by her firm, she couldn't resist going away again. Travelling is a learning curve. It changes you.
In 2008, Christelle decided to take another 5 months sabbatical leave. This time she headed to Asia and North Africa. 2 months in India and Nepal, then 3 months in Morocco. She has always loved exploring different cultures by meeting new people. In Morocco, Christelle met Halim. Together they decided to create their own business in a field they love: travelling. That is how Tamazirt Evasion was born.
Christelle is in charge of organizing your stay in Morocco. She can service you with her expertise, thanks to her extensive knowledge of Southern Morocco.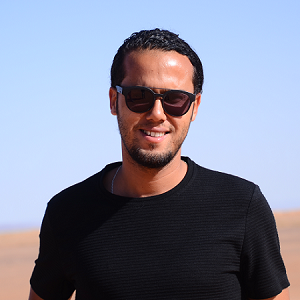 Halim
Halim was born in Agadir. He is a Berber from the Souss. Self taught, he speaks 5 languages (Arabic, Berber, French, English and Italian) and knows Agadir and its area inside out. His love of good work is notorious, and recommended by all his clients: Halim is alway smiling, always eager to help. There is one thing Halim is obsessed with: making your stay a one-in-a-lifetime experience. Halim is in charge of the 4X4 tours and excursions. And if you feel like a horse ride, you've found your man, he's also an excellent horse rider.
ABOUT TAMAZIRT
A work of art is above all an adventure of mind!
HOW WE WORK
There is no maximum or minimum participants in the tours we organize. All our offers are exclusive, it will be only you in the 4WD or convey. Whether you are alone, a couple, a family or a group of friends, we will customize your stay according to your every desires.
TRAVEL DETAILS
---
Transportation and transfer: 4WD or minibus depending on the number of people and your choice.
Luggage porterage when trekking: donkey, mule or camel.
We recommend taking an animal ride to carry children.
French and english speaking drive.
Because travelling should be a time to relax, explore and share, we make it our duty to avoid tourists trap shops. Your driver doesn't receive commission when you purchase something. Quite the contrary, he is your best adviser, and will help you not to be swindled! Negotiating is a daily exercise in Morocco as in many other countries. Just have a try! It is part of integrating in daily Moroccan life. But as it may sometimes become a hassle for foreigners, this guide is here to give you help and advice.
ACCOMMODATION
---
Depending on the trip you chose, you will be hosted in a gîte, guesthouse, bivouac, riad or hotel. We avoid big insipid hotels and prefer genuine, small and lovely places.
(Français)
COMPOSITION DU VOYAGE
Le transport et transfert s'effectuent en 4×4 privé ou minibus selon le nombre de participants et votre choix. Portage des bagages en randonnée : âne, mule ou dromadaire. Pour les enfants, nous conseillons de prendre une bête de selle.
Nos chauffeurs sont francophones et pour les visites nous faisons appel à des guides locaux parlant français également.
HEBERGEMENT
Selon le circuit choisi vous serez hébergés en gîte, en maison d'hôtes, en bivouac, riad ou en hôtel. Nous fuyons les grands complexes hôteliers sans âme. Nous privilégions des structures à taille humaine, de charme et authentiques.